It all started with an article in the issue July 2014 of the German amateur radio magazine FUNKAMATEUR. Martin Kumm, DC3MKB published in this issue an interesting article for a smart SMD soldering station based on the well know ARDUINO UNO.
He offers a kit including all components, the Weller RT 1 solder tip and the PCB for a very reasonable price. I've ordered one and build it.
Then the everlasting question - encasing - rises :-)
As for some other project I've used an PROMA aluminium case #1 from REICHELT cut it in half. Together with a 12V/5A switching power supply it builds up a really compact soldering station.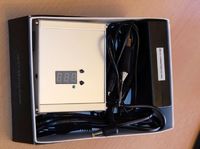 You can find some more pictures down the page!
I have no stand-by switch on the solder station, because the heatup time of the tip is less than 5 second for 350°C. If I stop soldering for a longer time, I simply power off the device.
Furthermode I've updated the firmware based on Martins work. The firmware now features:
Lamptest on power-up
Display of firmware version on power-up
Decimal points in LED-digits are used as a power indicator.
< 25% PWM - no decimal point displayed
< 50% PWM - one decimal point displayed
< 75% PWM - two decimal points displayed
>75% PWM - three decimal points displayed
Protection for the solder tip internal heater. If a specific time the PWM rate is >30% the heater is switched off and ERR is displayed. To restart, the ARDUINO must be resetted.
You can download the firmware from here but please remember
!!! USE IT ON YOUR OWN RISK !!!!
... next step will be engraved front and side plates ...
---
Compact 12V/5A switching power supply
Right side with power socket
... and yes, I prefer long holes for the switches.
Left side with power switch and socket for the heater cable
Can also be used upright